U-18 Women's Interprovincial Championship: Round 1 Review/Try Highlights
Leinster and Ulster both laid down a marker with winning performances in the opening round of the IRFU Under-18 Women's Interprovincial Championship on Saturday.
U-18 Women's Interprovincial Championship Fixtures/Results/Table
Women's Interprovincial Championship: Round 1 Review
The first of this season's Women's Interprovincial double headers took place at Irish Independent Park where it was one win apiece for Ulster and Munster. Coached by Charlie Farrell and Zoe Templeton, the Ulster U-18s won the curtain raiser 17-12 thanks to two unanswered second half tries.
Despite their early possession and territory, Munster fell behind to a neatly-crafted 12th-minute try. The Ulster forwards carried hard to outside the 22 before key passes from centres Moya Hill and Zara Fack expertly drew in defenders, and full-back Farrah McCloskey was fed for an impressive finish past the covering Vivienne O'Donovan.
After Hill landed the left-sided conversion, new Munster U-18 head coach Fiona Hayes would have been delighted with her team's response. They were quick to draw level, a power-packed lineout maul being collapsed on the Ulster try-line for a penalty try.
The Munster girls took a 12-7 lead into the break, with flying Ennis winger Aoibhinn O'Loughlin intercepting a pass just inside her own half and speeding clear to score. The hosts' centres, Saskia Morrissey and Alana McInerney, tackled and harried to help force the opportunity.
The tit-for-tat exchanges continued with Ulster hitting back with the levelling try, just five minutes into the second half. Their Ava Fannin-led forwards got on top, moving them back into scoring range, and influential replacement Rachel McGee got the better of three defenders to scramble over from a few metres out.
The Ballyshannon youngster crucially made it a brace, having been invited through a gap by Taryn Schutzler's well-timed pass. McGee again showed her finishing ability as she broke a tackle from Aoife Corey to crash over to the right of the posts.
Willed on by the vocal home support, Munster had their chances to respond during the final few minutes, twice breaking from deep. However, Ulster's cover defence stood up to the challenge with Flack and replacement Emma Ryan both making important tackles.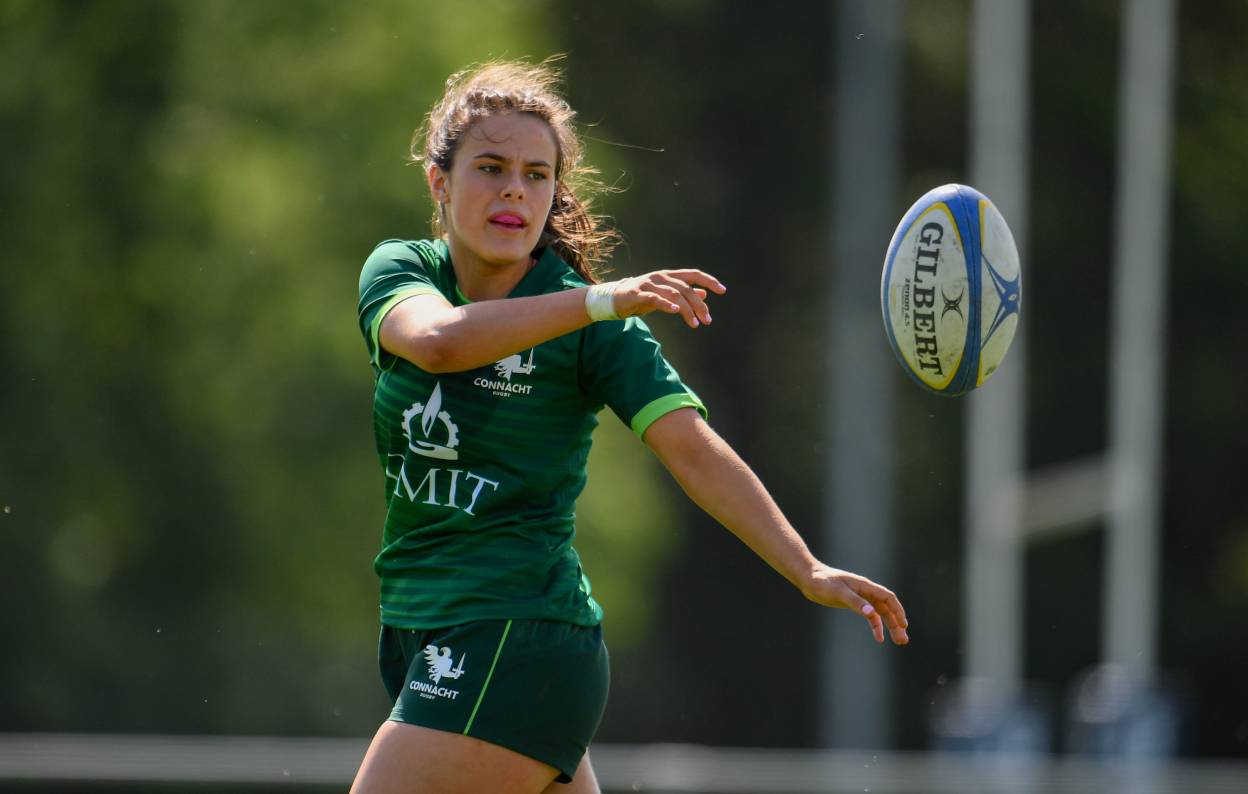 Meanwhile, tries inside the first six minutes from new caps Rachel Conroy and Aoife Wafer set Leinster on their way to a 39-10 bonus point victory over defending champions Connacht at MU Barnhall RFC.
The home forwards provided quick ball for the backs to shift it wide and Tullamore winger Conroy crossed with just three minutes gone. Leinster controlled possession from the restart and Enniscorthy flanker Wafer soon doubled the lead from close range to 10-0.
Fraser Gow's Connacht side knuckled down and were rewarded with a five-pointer from Caoimhe English McNamara, the Westport full-back taking advantage of some space out wide. They were able to cut the gap to 17-10 with Faith Oviawe cancelling out Wafer's second score.
Nonetheless, Leinster managed to wrestle back control before half-time with unconverted tries from Kathryn Dempsey and Katie Whelan, another of the players making their debut, pushing them 27-10 clear. They also weathered a prolonged storm from Connacht on the resumption, with the visitors held scoreless.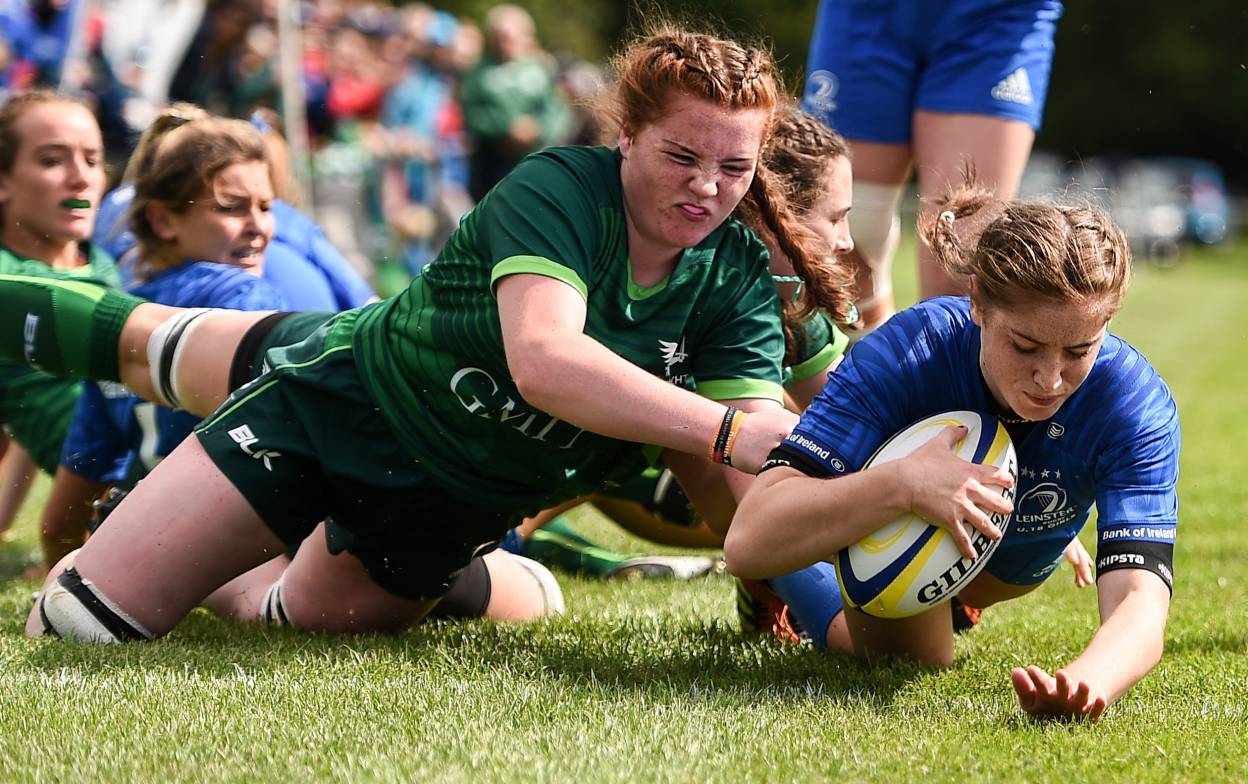 Dundalk number 8 and captain Ellie Meade typified the Leinster effort, their determination doubling during flanker Erin King's yellow card for persistent team penalties. The vital moment came when centre Ciara Faulkner stepped past two defenders close to the Leinster line and took off for a brilliant length-of-the-field try.
The Tullamore talent matched Wafer's two-try contribution by completing her own double late on, following up on some good approach work by the Leinster pack. Speaking afterwards, their head coach Niall Neville said he was 'really pleased with the result and effort' of his squad, which included 15 new caps.
"The first game out is always difficult and we expected there would be some errors but we spoke about our reactions to these rather than the errors themselves," he said. "We've been training hard but nothing beats game-time and a chance to put into practice what we have been doing against an opposition we don't know.
"Connacht, to their credit, got stuck into us physically and that is something we'll have to manage in terms of our tackle tech and our defensive system. For us, the focus now moves to the game on Saturday against Ulster, who had an impressive win against Munster."
IRFU UNDER-18 WOMEN'S INTERPROVINCIAL CHAMPIONSHIP – ROUND 1 RESULTS:
MUNSTER U-18 WOMEN 12 ULSTER U-18 WOMEN 17, Irish Independent Park
Scorers: Munster U-18 Women: Tries: Penalty Try, Aoibhinn O'Loughlin; Con: Pen try con
Ulster U-18 Women: Tries: Farrah McCloskey, Rachel McGee 2; Con: Moya Hill
HT: Munster U-18 Women 12 Ulster U-18 Women 7
MUNSTER U-18 WOMEN: Vivienne O'Donovan (Skibbereen); Aoife Corey (Ennis), Saskia Morrissey (Kilrush), Alana McInerney (Ennis), Aoibhinn O'Loughlin (Ennis); Emma Connolly (Skibbereen), Courtney Duhig (St. Mary's); Eileen Gleeson (Nenagh Ormond), Sarah Murphy (Kanturk) (capt), Erika Kiely (Carrick-on-Suir), Eilish Cahill (Ennis), Aine Enright (Listowel), Aaliyah Te Pou (Shannon), Faye Dowling (Fethard & District), Eimear Minihan (Skibbereen).
Replacements: Rebecca Collins (St. Mary's), Chloe Ann O'Driscoll (Skibbereen), Niamh Thornton (Skibbereen), Marea Walsh (Shannon), Alex O'Sullivan (Skibbereen), Clodagh McMahon (Kilrush), Roisin Houlihane (Ballina/Kilaloe), Jennifer Fogarty (Fethard & District).
ULSTER U-18 WOMEN: Farrah McCloskey (Enniskillen); Sophie Kinghan (Dundalk), Zara Flack (Enniskillen), Moya Hill (Enniskillen), Lucy Thompson (Enniskillen); Toni Macartney (Larne), Sarah Shrestha (Dungannon); Ella Garland (Cooke), Aoife Cahill (Malone), Ava Fannin (Virginia) (capt), Kim Johnston (Dungannon), Taryn Schutzler (Malone), Sophie Barrett (Enniskillen), Erin Carson (Malone), India Daley (Enniskillen).
Replacements: Cara O'Neill (Malone), Hannah Cooney (Malone), Delyth Cook (Ballyclare), Samantha Cassidy Campbell (Ballyclare), Rachel McGee (Ballyshannon), Lauren Kilfedder (Enniskillen), Emma Ryan (Virginia), Jenna Corkey (City of Armagh).
LEINSTER U-18 WOMEN 39 CONNACHT U-18 WOMEN 10, Parsonstown, MU Barnhall RFC
Scorers: Leinster U-18 Women: Tries: Rachel Conroy, Aoife Wafer 2, Kathryn Dempsey, Katie Whelan, Ciara Faulkner 2; Cons: Ava Jenkins 2
Connacht U-18 Women: Tries: Caoimhe English McNamara, Faith Oviawe
HT Leinster U-18 Women 27 Connacht U-18 Women 10
LEINSTER U-18 WOMEN: Lauren Patterson (North Meath); Laura Carty (Edenderry), Ciara Faulkner (Tullamore), Kathryn Dempsey (New Ross), Rachel Conroy (Tullamore); Ava Jenkins (Mullingar), Katie Whelan (Enniscorthy); Rachel Murtagh (Naas), Emily Slater (Arklow), Megan Collis (Greystones), Holly Leach (MU Barnhall), Dara Yore (North Meath), Erin King (Naas), Aoife Wafer (Enniscorthy), Ellie Meade (Dundalk) (capt).
Replacements: Ellen Murray (Naas), Emily Jo White (North Meath), Eimear Douglas (Wicklow), Ivanna Dempsey (Naas), Hannah Foxe (Tullamore), Beth Roberts (Wicklow), Emma Kelly (Tullamore), Orla Hayes (Ashbourne).
CONNACHT U-18 WOMEN: Caoimhe English McNamara (Westport); Katie Hogan (Westport), Alana Roche (Connemara), Maeve Muldoon (Ballinasloe), Fodhla Ni Bhraonain (Corinthians); Megan Walsh (Connemara), Olivia Haverty (Portumna); Mary McLoughlin (Westport), Emily Gavin (Ballinasloe), Zara Grehen (Ballinasloe), Eva McCormack (Westport), Aisling Hahessy (Claremorris Colts), Mollie Starr (Portumna), Hannah Johnston (Sligo), Faith Oviawe (Buccaneers).
Replacements: Molly Ager (Claremorris Colts), Aimee Kelly (Buccaneers), Leah Hogarty (Ballinasloe), Rachel Larkin (Ballinasloe), Aisling Browne (Westport), Caoimhe Geraghty (Corinthians), Katelyn Bourke (Ballina), Nina McVann (Ballina).