Men's Sevens Squads Announced For Rugby Europe And GB7s Tournaments
The Ireland Men's Sevens squads for the first Rugby Europe tournament and Stage 2 of the GB7s Tour have been announced.
The Ireland Men's Sevens squad to take part in Rugby Europe Men's Division C tournament in Bosnia this weekend has been named. The squad will be captained by Lansdowne and Leinster's Tom Daly, with the Irish side drawn in Pool B with Turkey, Belarus and Montenegro.
This tournament is the first step along the road to qualifying for the Sevens World Series and Olympics. The top four teams from this tournament will be promoted to Division B and compete in Croatia over the weekend of June 20-21.
The highest ranked eligible team from Division B qualifies to participate in the Rugby Europe Olympic Repechage tournament which will take place in Lisbon on July 18-19.
The winners of the Lisbon tournament will then have the opportunity to compete in the World Olympic Repechage in 2016 to secure the last spot for Rio 2016.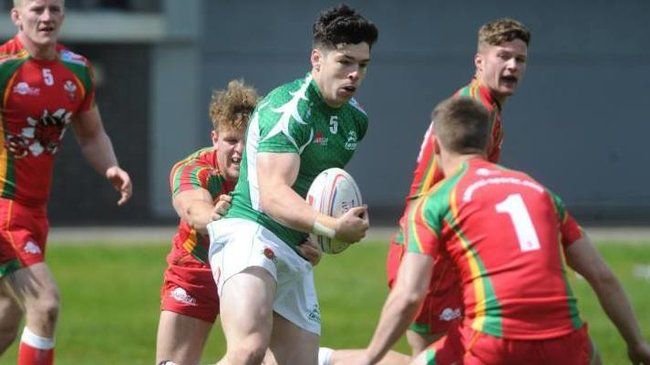 Speaking ahead of the tournament, Anthony Eddy, IRFU Director of Rugby Sevens, said: "The panel has progressed in a short space of time. It is our ambition to be a part of the Sevens World Series by the end of 2017 whilst also having an outside chance for Olympic qualification in Rio in 2016.
 
"The Ireland Wolfhounds played in their first GB7s Tour event last weekend in Edinburgh and came fourth overall. We hope to build on that result this week in the Europeans.
"It's going to be tough, but we feel we're really going to progress as the season goes on as these players develop their ability to play international rugby at this level."
Check out www.irishrugby.ie/sevens for all the latest Men's and Women's Sevens news.
IRELAND MEN'S SEVENS Squad (Rugby Europe Men's Division C, Stadion Kamberovica polje, Zenica, Bosnia, June 6-7):
1. Shane Layden (Buccaneers/Connacht)            
2. Gearoid Lyons (Young Munster/Munster)     
3. Diarmaid McCarthy (Young Munster/Munster)            
4. Adam Byrne (UCD/Leinster)  
5. Aaron Cairns (Ballynahinch/Ulster)     
6. Tom Daly (Lansdowne/Leinster) (capt)     
7. David McGuigan (Ballynahinch/Ulster)             
8. Harry McNulty (UCD/Leinster)             
9. Cian Aherne (Lansdowne/Leinster)  
10. Mark Roche (Lansdowne/Leinster)                 
11. Alex Wootton (Garryowen/Munster)             
12. Michael Lawton (Exiles)
Rugby Europe Men's Division C Match Schedule –
Saturday, June 6:
Pool B –
Turkey v Ireland, 10.22am local time/9.22am Irish time
Belarus v Ireland, 2.28pm local time/1.28pm Irish time
Montenegro v Ireland, 4.22pm local time/3.22pm Irish time
Sunday, June 7:
Play-Offs
The Ireland Wolfhounds continue their GB7s Tour campaign with stage 2 in Coventry this weekend.
IRELAND WOLFHOUNDS SEVENS Squad (GB7s Tour Stage 2, Broadstreet RFC, Coventry, Saturday, June 6):
Matthew D'Arcy (St. Mary's College/Leinster)
Ian Fitzpatrick (Lansdowne/Leinster)
Dan Goggin (Young Munster/Munster)
Eoghan Grace (Exiles)
Foster Horan (Lansdowne/Leinster)
Dave Moore (Blackrock College/Leinster)
Tadhg Beirne (Lansdowne/Leinster)
Matthew O'Regan (Exiles)
Luke O'Dea (Shannon/Munster)
Steve Toal-Lennon (St. Mary's College/Leinster) 
Alan Bennie (Clanwilliam/Munster)
Ciaran Wardle (Exiles)
Terry Kennedy (St. Mary's College/Leinster)
Alex Kane (Exiles)
GB7s Tour Stage 2 Match Schedule –
Saturday, June 6:
Pool B –
Ireland Wolfhounds v Forces Exiles, 11.09am
Ireland Wolfhounds v England IPF, 12.42pm
Co-Optimist v Ireland Wolfhounds, 1.54pm
Play-Offs