#ShoulderToShoulder: Tour Diary – Day 1 And 2
Ireland are in Argentina for a tough two-Test summer tour and we will keep you #ShoulderToShoulder with the squad over the next two weeks with behind the scenes video, photos and updates in our tour diary.
Day 1 – Departure
Last minute packing on Sunday morning before meeting up at the airport hotel in the afternoon. There are final adjustments to the number 1s (team formal wear) for some, injections for all and an update on the squad – Keith Earls and Martin Moore out, the uncapped Noel Reid and Rodney Ah You in.
Then there is the big news that forwards coach John Plumtree will be leaving the Ireland set-up after the tour. He is returning home to New Zealand and a role in Wellington. A tough decision for John but the right one for his family.
The flight to Buenos Aires is a long one – 13-and-a-half hours – and the squad are kitted out with not so flattering flying socks and humidifying air masks to help them breathe easier and prevent infection, as modelled here by Rob Kearney:
Day 2 – Arrival
Only four of the current squad toured here in Argentina back in 2007 – Rob, Jamie Heaslip, Andrew Trimble and Eoin Reddan – so it is a new adventure for most.
First job is to help bagman Willie Bennett get all the gear and equipment loaded and with that done, we are on the way.
On arrival at the team hotel in downtown Buenos Aires, it is straight to the team room for breakfast as organised by team nutritionist Ruth Wood-Martin, who is always the advance guard for the squad, making sure all is ready for some seriously hungry players.
There's a chance to check in, shower and change before a stretch and recovery session with strength & conditioning coach Jason Cowman.
In the meantime the performance analysts – Mervyn Murphy and Vinny Hammond – are getting the laptops set up, the medical team, with Dr. Eanna Falvey and physios James Allen and Keith Fox, are setting up their room and masseur Dave Revins is drawing up a schedule for daily rub downs. There are some media interviews to be done too:
That's followed by lunch and a squad meeting before a walk through in a nearby park – a chance for the lads to run through some basics and stretch the legs while some curious locals look on!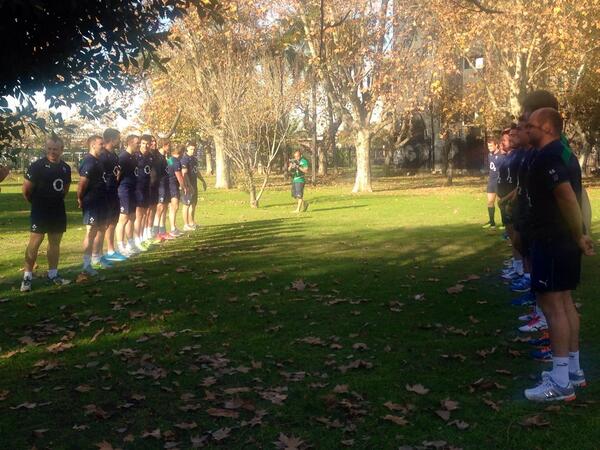 That's enough for the first day as the most important thing after a hard game and a long flight is recovery time.
Related Links –
In Pics: Ireland Squad's Arrival In Buenos Aires
Earls And Moore To Miss Summer Tour