IRFU Hosts Four Nations Conference On Player Participation
The IRFU's Rugby Development and Club Game Department today began the hosting of a two-day Four Nations Conference in Malahide, Dublin to discuss 'Player Participation and Engagement of the 16-24-year-old Age Group'.
The Four Nations Conference is being attended by representatives of the IRFU, WRU, RFU and SRU and each union is presenting case studies on best practice programmes focused on retaining players from the 16 to 24 age group in the game.
 
The IRFU engaged with the ESRI to produce rugby specific research on the topic, following the ESRI's 2013 publishing of a report entitled, 'Keeping them in the Game', which explored participation and drop-out rates across a range of sports in Ireland.
 
The ESRI research revealed two key pressure points in the life cycle of a young rugby player. The first comes between the ages of 11-13 years where there is almost a 50% drop in player numbers when entering secondary school.
The second pressure point identified is the move from secondary level where 18% of rugby players drop out of the game within 3 to 4 years.
 
Dr Pete Lunn commented: "A number of factors contribute to the drop off in participation in sport as children go through adolescence and into young adulthood and these are often not related to the sport itself.
"Changes in circumstances, routine, travel time, available free time, school workload and the strain on parental resources all contribute to the decline in participation.
"The IRFU are taking a proactive approach to understanding these pressures by engaging with the research and looking for solutions to counteract drop-out rates at these two key junctures."
John Lamphiere, Regional Sales Director UK and Ireland for facebook, spoke to the conference about how young people are engaging online and the rapid pace of change in how they adopt and adapt to new technology.
Scott Walker, the IRFU's director of rugby development & club game, said: "Although rugby compares favourably with other major sports in terms of drop-out rates, the research allows us to clearly identify the pressure points in our player participation model and enables us to explore options to better facilitate those transitions so that we retain more young players in the game.
"Our sister unions are all experiencing similar issues and this conference has provided a platform for us to share ideas and proactively address keeping young people in the game."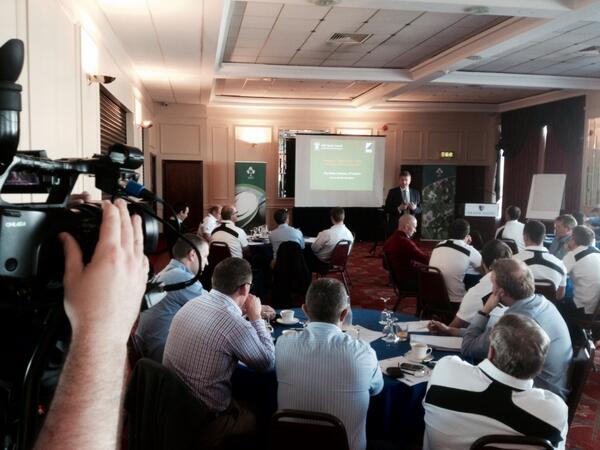 The conference, hosted in the Grand Hotel, Malahide, includes a number of presentations and workshops on the topic presented by the four Unions:
 
IRFU – Research on Ireland Demographics and Participation in Sport & Physical Activity
WRU – Dropout rates amongst Under-16 players
SRU – Edinburgh Rugby's 'Play On' initiative
Facebook – Online Engagement among 16-24-year-olds
RFU – O2 Touch Rugby Programme
RFU – Rugby programmes in Colleges and Universities
SRU – Appropriate Competition for Age Grade Players
WRU – Age Grade Players' Attitudes to Youth Rugby
ESRI Research: 'Keeping them in the Game'