Ulster Bank Club International Preview: Ireland Club XV v France Fédérale
History will be made at 8pm tonight when some of the leading players in the Ulster Bank League take on their French counterparts in a unique Ulster Bank Club International fixture – the second part of a mouth-watering Ireland v France double header at the Aviva Stadium.
ULSTER BANK CLUB INTERNATIONAL: Saturday, February 14
IRELAND CLUB XV v FRANCE FEDERALE, Aviva Stadium, 8pm
Team News: The Ireland Club team to play France Clubs in the historic Ulster Bank Club International at the Aviva Stadium has been named.
Head coach Paul Cunningham has made a number of changes to the team that lost narrowly away to Scotland last weekend.
Kevin McGrath of Skerries starts on the left wing with Blackrock's Sean Coughlan drafted in on the right wing.
Angus Lloyd from Dublin University starts at scrum half. The experienced Gerry Hurley, who was a late withdrawal last week, is among the replacements and his Cork Constitution club-mate Ger Sweeney starts in the front row.
In the grand tradition of the Barbarians and to mark the showcasing of the Ulster Bank League, the Ireland Club team will proudly wear their club socks as they take to the field for the Ulster Bank Club International.
Tickets for the game are available from ticketmaster.ie, while supporters who are at the RBS 6 Nations game are encouraged to stay on and enjoy this fantastic double header.
Captain Matt D'Arcy said: "I have been with Clontarf since I was six or seven and it will be a very proud moment to lead out the team in the green of Ireland and wear our club colours at the same time."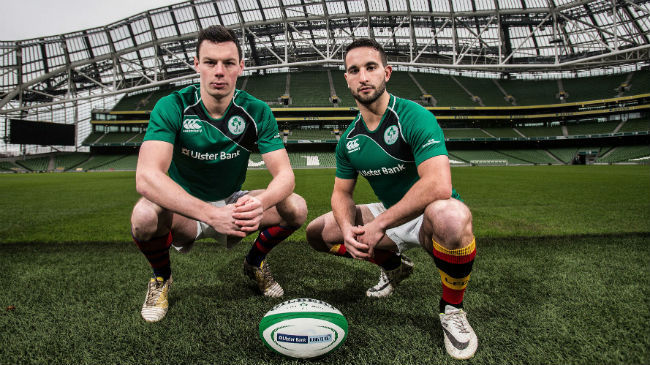 Meanwhile, the France Fédérale team is a bit of an unknown quantity, especially as Ireland have no recent history of playing against them, but they do represent the best amateur club players in France.
The French selection, led by a management team of Georges Duzan, Pierre Montlaur and Alain Gaillard, came together for training at Marcoussis in early January. One player to watch out for is left winger Stéphane Bonvalot who plays for Nevers, the runaway Fédérale 1 league leaders who have won all 14 of their games so far this season.
The well-organised French beat England Counties by one point (16-15) in Nevers last year, thanks to a late penalty, as did the Irish in Darlington (23-22). Full-back Lucas Levy was France's match winner against England, charging down a conversion and then kicking the decisive penalty, and they also claimed a 30-3 victory over Scotland last March.
The half-back pairing of Julien Lavie and Paul Dubert is retained from last year, and there is continuity with the same second row and back row selections. La Seyne's Julien Capdeillayre, who has played for the French Barbarians, captains the visitors from number 8.
Like Ireland, the French have two club international fixtures this season. They are also scheduled to host England Counties next month.
IRELAND CLUB XV: Daniel Riordan (Old Belvedere); Sean Coughlan (Blackrock College), Mark Roche (Lansdowne), Matt D'Arcy (Clontarf) (capt), Kevin McGrath (Skerries); Darragh Lyons (Cork Constitution), Angus Lloyd (Dublin University); Ian Prendiville (Lansdowne), Andrew O'Driscoll (Cork Constitution), Ger Sweeney (Cork Constitution), Stephen Gardiner (Lansdowne), Fergal Walsh (Terenure College), Stephen Mulholland (Ballymena), Paul Pritchard (Ballynahinch), Jonathan Slattery (Old Belvedere).
Replacements: Eddie Rossiter (Garryowen), Adam Boland (Lansdowne), Peter O'Shea (Garryowen), Connor Smyth (Ballymena), Sean Walsh (Cashel), Gerry Hurley (Cork Constitution), Stephen Murphy (UCD), Stephen O'Neill (Terenure College).
FRANCE FEDERALE: Lucas Levy (Aix en Provence, Comité Provence); Pierre Lafitte (Périgueux, Comité Périgord Agenais), Kevin Burgaud (Vannes, Comité Bretagne), Thomas Anies (Céret, Comité Pays Catalan), Stéphane Bonvalot (USO Nevers, Comité Bourgogne); Julien Lavie (Langon, Comité Côte d'Argent), Paul Dubert (Tyrosse, Comité Côte Basque Landes); Max Curie (Aubenas, Comité Drome Ardeche), Philippe Rodriguez (Tyrosse, Comité Côte Basque Landes), Nicolas Kwarazfelia (Blagnac, Comité Midi Pyrénées), Benoit Senac (US Seynoise, Comité Côte d'Azur), Anthony Potente (Aix en Provence, Comité Provence), Damien Costanzo (Périgueux, Comité Périgord Agenais), Guillaume Geledan (Stade Bagnerais, Comité Armagnac Bigorre), Julien Capdeillayre (US La Seyne, Comité Côte d'Azur) (capt).
Replacements: Thierry Berhabe (Oloron, Béarn), Valentin Carrat (US Seynoise, Comité Côte d'Azur), Kevin Kahn (Tyrosse, Comité Côte Basque Landes), Jean Baptiste Cros (Périgueux, Comité Périgord Agenais), Anthony Poujol (Aix en Provence, Comité Provence), Rémi Lamarque ((Stade Blayais Rugby, Comité Côte d'Argent), Jean-Baptiste Lafite (Cognac, Poitou Charentes), Matthieu Cossia (Aix en Provence, Comité Provence).
Referee: Eddie Hogan O'Connell (Ireland)
Assistant Referees: Paul Haycock, Michael Carroll (both Ireland)
Pre-Match Quotes – Matt D'Arcy (Ireland Club XV captain): "Obviously it doesn't get much better than leading an Ireland team out at the Aviva Stadium. It's probably the biggest highlight of my rugby career to date and I'm really looking forward to it, and so are my family.
"I'm representing Clontarf and all the other lads are representing their clubs. It's a really great showcase for the amount of talent that is in the Ulster Bank League – week in, week out there are some unbelievable players playing in the league and we're just some of them.
"We don't know a whole lot about the French. Traditionally, they'll be very big, strong, hard runners. We'll just have to front up. Obviously, we were disappointed with the Scottish defeat (last week) so we're really going to have to up our game and hopefully get the win."
Ireland Club XV: Recent Matches –
2013: Ireland Club XV 30 England Counties 20, Temple Hill, Cork Constitution FC; Scotland Club XV 30 Ireland Club XV 18, Millbrae, Ayr RFC
2014: Ireland Club XV 28 Scotland Club XV 3, Temple Hill, Cork Constitution FC; England Counties 22 Ireland Club XV 23, Northern Echo Arena, Darlington Mowden Park RFC
2015: Scotland Club XV 23 Ireland Club XV 18, Netherdale, Gala RFC