Ireland Men's Sevens Squads Set Off For Malmo And Maidenhead
Anthony Eddy, the IRFU Director of Sevens Rugby, has named the Ireland squad to compete in the Rugby Europe Men's Sevens Trophy tournament in Malmo, Sweden this weekend.
The Rugby Europe Trophy competition is held over two legs, with the second leg taking place in Prague on July 2-3. The overall winners will be promoted onto the Rugby Europe Men's Sevens Grand Prix Series with the likes of the English, Scottish and Russian Sevens sides.
The Ireland squad has a similar make-up to the one that reached the semi-finals of the Amsterdam 7s on the last weekend of May. Lansdowne and Leinster Academy talent Ian Fitzpatrick has come into the squad and is joined by his Lansdowne club-mate Matthew Oppermann.
Also added to the squad is former Ireland Under-20 winger Barry Daly of UCD and Stephen Fitzgerald who is part of the Munster Academy and plays with Shannon. The side will be be led by regular skipper Tom Daly.
Speaking ahead of the departure for Malmo, Anthony Eddy said: "The Rugby Europe tournament is very important for the development of the Men's Sevens programme in Ireland. We aim to do well in the Trophy competition so we can continue our promotion to the Grand Prix Series next year. The squad has been preparing well and gaining valuable experience from playing in tournaments."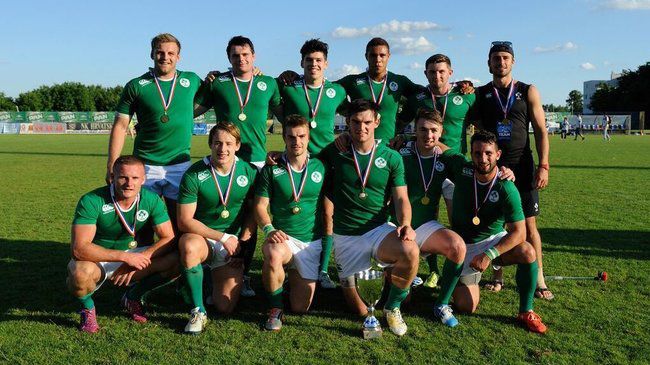 On Saturday, another Ireland Men's Sevens squad will compete in the first stage of the Elite Super Sevens Series which will take place in Maidenhead. This will be followed by stages 2 and 3 which will take place in Coventry and Exeter over the coming weeks.
Included in the development squad are the likes of Ulster Academy players David Busby, Conor Kelly, Nick Timoney and Rob Lyttle, Munster Academy member Ollie Lyons and Ulster Bank League Division 1A top try scorer and former Leinster winger, Mick McGrath.
On the Maidenhead side, Eddy added: "We are developing a strong panel of Sevens players and it's important that they get as much game-time as possible. This will be a high quality tournament and series and provides valuable playing experience as well as an opportunity for players to put themselves forward for further selection."
IRELAND MEN'S SEVENS Squad (Rugby Europe Men's Sevens Trophy Leg 1, Malmo Rugby Club, Malmo, Sweden, June 11-12):
Adam Byrne (UCD/Leinster)
Barry Daly (UCD)
Tom Daly (Lansdowne/Leinster) (capt)
Billy Dardis (UCD/Leinster)
Ian Fitzpatrick (Lansdowne/Leinster)
Stephen Fitzgerald (Shannon/Munster)
Dan Goggin (Young Munster/Munster)
Shane Layden (Buccaneers)
Harry McNulty (UCD)
Matthew Oppermann (Lansdowne)
Steve Toal-Lennon (St. Mary's College)
Alex Wootton (Garryowen/Munster)
Ireland Men's Sevens – Malmo Schedule:
Saturday, June 11 –
Latvia v Ireland, 10am local time/9am Irish time
Israel v Ireland, 1.07pm local time/12.07pm Irish time
Monaco v Ireland, 3.52pm local time/2.52pm Irish time
Sunday, June 12 –
Play-Offs
Rugby Europe Men's Sevens Trophy – Pools/Fixtures
IRELAND MEN'S SEVENS DEVELOPMENT Squad (2016 Super Sevens Series – Stage 1, Maidenhead, England, Saturday, June 11):
David Busby (Queen's University/Ulster)
Jordan Conroy (Tullamore)
Matthew D'Arcy (Lansdowne) (capt)
Colm Hogan (Dublin University)
John O'Donnell (Sale Sharks)
Conor Kelly (Queen's University/Ulster)
Ollie Lyons (Shannon/Munster)
Rob Lyttle (Queen's University/Ulster)
Mick McGrath (Clontarf)
Isaac O'Grady (Unaffiliated)
Mark Roche (Lansdowne)
Nick Timoney (Queen's University/Ulster)
Ireland Men's Sevens Development – Maidenhead Schedule:
Saturday, June 11 –
Ireland Development v Forces Exiles, 10.40am
Ireland Development v WS Marauders, 1.20pm
Play-Offs