Ulster Bank Bateman Cup Final Preview: Cork Constitution v Clontarf
Rugby fans from around the world will be able to watch Saturday's Ulster Bank Bateman Cup final between Cork Constitution and Clontarf, with live coverage on RTE 2 Television and www.rte.ie/live.
ULSTER BANK BATEMAN ALL-IRELAND CUP FINAL: Saturday, April 18
CORK CONSTITUTION v CLONTARF, Temple Hill, 2.35pm (live RTÉ 2/www.rte.ie/live (worldwide))
Ulster Bank League Form – Cork Constitution: WLLLL; Clontarf: WLLWW
Ulster Bank League Season's Record – Cork Constitution: 8th place finish, seven wins and two draws; Clontarf: 3rd place finish, ten wins
This Season's League Meetings – Saturday, November 15, 2014: Cork Constitution 13 Clontarf 10, Temple Hill; Saturday, March 28, 2015: Clontarf 43 Cork Constitution 30, Castle Avenue
Did You Know?
1. Cork Constitution are seeking to become only the second club in history to achieve a Bateman Cup three-in-a-row. Lansdowne managed the feat back in 1929, 1930 and 1931.
2. If Clontarf triumph on Saturday, they will be the first Leinster winners of either the All-Ireland Cup or Bateman Cup since the competitions were reintroduced in 2005 and 2011 respectively.
3. The Bateman Cup was presented to the IRFU by Kerry-born Dr. Godfrey Bateman in memory of his sons Reginald and Arthur, who both played rugby for Trinity College and were killed during the First World War.
The inscription on the cup says: 'Presented by Godfrey Bateman to the Irish Rugby Football Union in ever-fresh and loving memory of his darling sons: Major Reginald John Godfrey Bateman, Canadian Infantry, killed in action September 3, 1918. Captain Arthur Cyril Bateman, who, on March 28, 1918, gave his life for his wounded Camerons'.
4. The competition was played annually between the four provincial cup winners on the last weekend of the season, with the exception of 1933 and 1934 when a number of the provincial cup campaigns had not been completed on time.
5. The Bateman Cup semi-finals used to be played as a double header at Lansdowne Road, with the final taking place at the same venue the very next day – 'a real test of stamina' according to a newspaper article from the 1920s. The tournament was finally terminated at the outbreak of the Second World War owing to the restriction on travel.
6. Garryowen Football Club ran a once-off Bateman Cup style competition in the spring of 1975, this in conjunction with the IRFU Centenary celebrations, the laurels eventually resting with St. Mary's College. They were presented with a plaque rather than the Bateman Cup.
7. Since the IRFU reintroduced the Bateman Cup in 2011, Munster clubs have dominated the competition with Bruff (2011), Garryowen (2012) and current champions Cork Constitution (2013 and 2014) all winning it.
Paths To The Final –
CORK CONSTITUTION:
Munster Senior Cup
– won 34-8 v Sunday's Well (home)
– won 30-8 v Bruff (home)
– won 21-17 v UCC (home)
– won 26-22 v Garryowen (final at Irish Independent Park) (champions for the 26th time)
Ulster Bank Bateman Cup semi-final
– won 36-25 v Buccaneers (away)
CLONTARF:
Leinster Senior League Cup
– won 19-14 v Dublin University (home)
– won 17-10 v Old Wesley (away)
– won 16-12 v Lansdowne (home)
– drew 28-28 v Old Belvedere (away) (Clontarf won on a 'tie-breaker')
– won 32-28 v UCD (final at Donnybrook) (champions for the 6th time)
Ulster Bank Bateman Cup semi-final
– won 24-20 v Ballynahinch (away)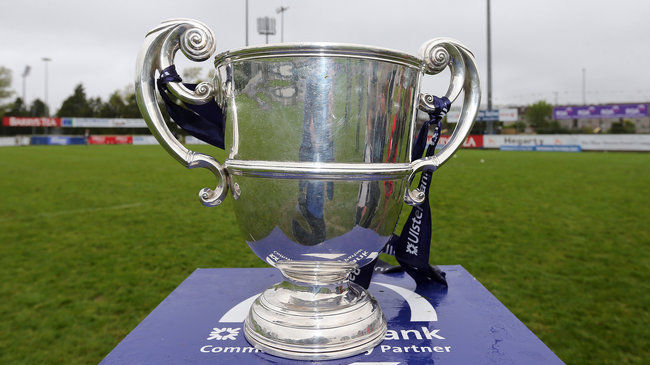 Preview: Cork Constitution are hoping to give departing head coach Tom Tierney a winning send-off as they bid to retain the Bateman Cup at their Temple Hill base.
Tierney, who will be focusing full-time on his coaching commitments with the Ireland Women's squad, said: "I think form, league positions and previous meetings go out the window on Saturday. Clontarf will be fired up for this game and we'll be the same. The winners of the final will be the team that turns up with the best attitude on the day."
Given their poor recent form, with four straight Ulster Bank League defeats and some key players lost to injury, it is understandable that Con are setting this up as a one-off game. On the other hand, Clontarf will be hoping to use the momentum built up by their qualification for the impending Division 1A play-offs.
Recent wins over Terenure College, Cork Con and Ballynahinch suggest that the north Dubliners are getting back to the performance levels they produced when winning the league title twelve months ago.
Andy Wood's men finished the league campaign in strong fashion, with Ireland Club captain Matt D'Arcy and David Joyce setting the standard in the backs and props Ian Hirst and Royce Burke Flynn, two of Leinster's recent signings, both impressing up front.
The Leesiders will also want to keep a close eye on D'Arcy's centre partner Evan Ryan, the former Con skipper. However, Tierney's side have plenty of match winners of their own, including experienced backs Gerry Hurley and Darragh Lyons, who combined to score their 19 points in last year's Bateman Cup decider against UCD.
The Constitution pack boasts players of the calibre of Graeme Lawler, Cathal O'Flaherty and James Ryan and although 'Tarf ran away with their March meeting, winning 43-30 at home, three points is all that separated the sides when they last clashed at Temple Hill back in November.
It was flanker James Murphy who grabbed the match-winning try that day as Con prevailed 13-10. But they were fortunate to get the result and Clontarf look well placed to exact revenge and pick up some more prized All-Ireland silverware for the club.
IrishRugby.ie Prediction: Clontarf to win by 1-5 points
CORK CONSTITUTION: Darren Sweetnam; Ned Hodson, JJ O'Neill, Niall Kenneally, Rob Jermyn; Darragh Lyons, Gerry Hurley (capt); Gavin Duffy, Max Abbott, Ger Sweeney, Cathal O'Flaherty, Graeme Lawler, Luke Cahill, James Murphy, James Ryan.
Replacements: Liam O'Connor, Aidan Slattery, Alan Ross, Sonny Dwyer, Andrew Dorgan, Tomas Quinlan, Rory Horgan.
CLONTARF: Rob Keogh; Michael Brown, Colm O'Shea, Matt D'Arcy, Max McFarland; David Joyce, Sam Cronin (capt); Ian Hirst, Bryan Byrne, Royce Burke Flynn, Tom Byrne, Ben Reilly, Karl Moran, Adrian D'Arcy, Anthony Ryan.
Replacements: Rory Litchfield, Liam Og Murphy, Ivan Soroka, Dermot O'Meara, Evan Ryan, Conor O'Brien, Conor O'Keeffe.
Referee: David Wilkinson (IRFU)
Bateman Cup – Recent Finals:
2011 – Bruff 24 Dungannon 18 – Match Report / Video Highlights
2012 – Garryowen 24 Ballymena 6 – Match Report
2013 – Cork Constitution 24 St. Mary's College 19 – Match Report / Post-Match Video
2014 – Cork Constitution 19 UCD 6 – Match Report / Video Replay