Reddan: We Have To Start Strong And Be Relentless
Scrum half Eoin Reddan has spoken of the moment when head coach Joe Schmidt made him captain for Ireland's GUINNESS Series clash with Georgia tomorrow.
Eoin Reddan will lead the team in the absence of Paul O'Connell and is delighted to be doing so whilst winning his 57th Ireland as part of a much-changed side.
Speaking about getting the captaincy nod, he said: "It was a bit surreal when I heard earlier in the week. I've enjoyed the week so far and it's important for a lot of us playing in the context of next week as well. It is exciting, it's a challenge.
"Joe (Schmidt) let me know earlier in the week, just casually enough to be honest. I'm sure he thought it was casual, but I was pretty shocked and happy to hear it.
"Maybe it's something you didn't even dream of doing, in this case, I suppose I always wanted to play for Ireland. I didn't probably ever get to dream that I might get a chance to do what I'm going to do on Sunday."
Reddan will become Ireland's 103rd captain at the Aviva Stadium tomorrow afternoon. He is the first scrum half to skipper the national side since Niall Hogan had the honour on three occasions back in 1996.
The previous year Michael Bradley captained Ireland for the 15th and final time against France. The former scrum half, who turns 52 on Monday, is of course part of the current Georgia management team, working as their backs and attack coach.
While Georgia are the clear underdogs heading into this game, Reddan believes Ireland's own 'expectation of performance' will dispel any hint of underestimating the visitors. They narrowly beat the Lelos in the pool stages of the 2007 Rugby World Cup – 14-10 in Bordeaux – and the Limerick man expects another physical battle tomorrow.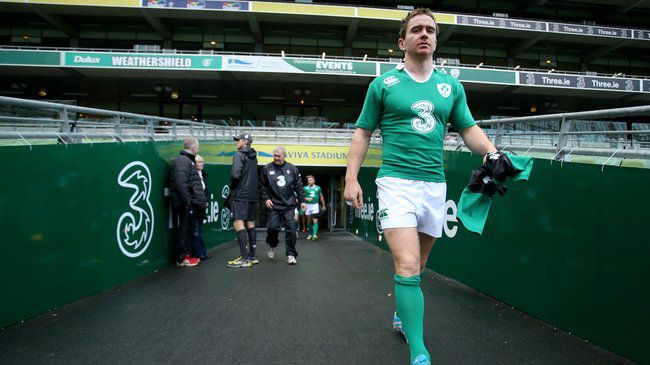 "There is always an expectation of performance, regardless of who we are playing. In fairness to the coaches, they always do come back to performance. It's not really about results.
"The only way you can get any long-term improvement or the improvements we have made is by focusing on that. Tomorrow will be no different.
"The challenge of playing against a very settled team, and we haven't had long together. Georgia are very strong in certain areas and there's a lot of people out there expecting a little different to what might pan out.
"The more you know about them the more respect you have for them. The people who will respect them most tomorrow are the fifteen lads running out on the pitch," he added.
With Australia to come next Saturday, the physicality of the Georgians is sure to be a welcomed test. Reddan feels scores will be hard to come by.
"I don't think we can afford a minute of waiting and seeing. We need to be very, very physical. We need to start very strong and keep to that, if that's what you mean by patience, and be relentless with that if it doesn't result in scores, which to be honest it probably won't. They are very good defensively.
"They come off the line very hard. They have got big men. It's not going to be easy. We are going to have to start strong and be relentless and not get frustrated. We need to be mindful of the physical battle that is coming. That is probably the biggest challenge for us tomorrow."