Ireland Women's Squad Named For RBS 6 Nations
The Ireland Women's squad had been named for the 2015 RBS 6 Nations Championship and includes twelve uncapped players.
Seven players included in the squad are currently involved with the Ireland Sevens set-up, including Nicole Cronin (pictured below), Katie Fitzhenry, Sene Naoupu, Hannah Tyrrell and Megan Williams along with experienced Internationals, Alison Miller and Jenny Murphy.
 
Speaking of his selection, Director of Sevens and Women's Rugby, Anthony Eddy, said: "It's a very exciting time for Women's rugby in Ireland. We have had a number of camps over the past few weeks and have had to make some tough choices reducing the squad to 30 players.
 
"It's a new dawn for the Women's team with a new coaching set-up, including head coach Tom Tierney, and 12 uncapped players named in the squad.
"That we can bring in this new talent is testament to the work done previously. We are all looking forward to the first game and kicking off a new era for the Ireland Women's squad."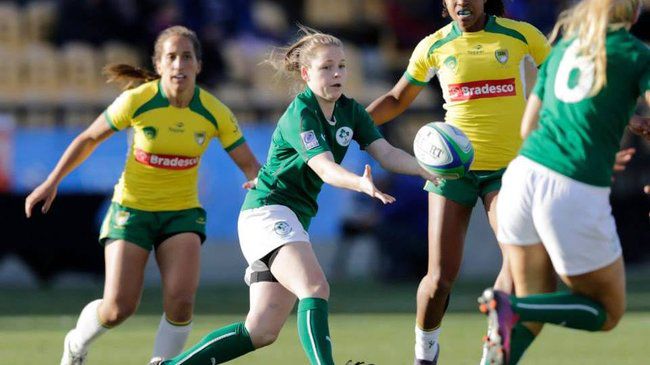 The girls in green will play a warm-up match against Wales at Ashbourne RFC this Sunday (kick-off 1pm). Ireland's home Six Nations games against France and England will be streamed live on IrishRugby.ie.
IRELAND WOMEN'S Squad (2015 Women's RBS 6 Nations):
 
Gillian Bourke (Olympico de Pozuelo/Selección de Madrid)
Niamh Briggs (UL Bohemians/Munster)
Kerrie-Ann Craddock (Saracens/Exile)
Nicole Cronin (Shannon/Munster) *
Jeamie Deacon (Blackrock/Leinster) *
Emma Dunne (Old Belvedere/Leinster) *
Ailis Egan (Old Belvedere /Leinster)
Katie Fitzhenry (Blackrock/Sevens) *
Paula Fitzpatrick (St. Mary's/Leinster)
Orla Fitzsimons (St. Mary's/Leinster)
Fiona Hayes (UL Bohemians/Munster)
Alison Miller (Portlaoise/Connacht)
Sarah Mimnagh (Wasps/Exile) *
Claire Molloy (Bristol/Connacht)
Larissa Muldoon (Skewen)
Jenny Murphy (Old Belvedere/Leinster)
Sene Naoupu (Galwegians/Sevens) *
Katie Norris (Blackrock/Leinster) *
Heather O'Brien (Highfield/Munster)
Fiona O'Brien (Old Belvedere/Leinster) *
Elise O'Byrne White (Old Belvedere/Leinster) *
Ruth O'Reilly (Galwegians/Connacht)
Marie Louise Reilly (Old Belvedere/Leinster) 
Tania Rosser (Blackrock/Leinster)
Jackie Shiels (Richmond/Exile)
Sophie Spence (Old Belvedere/Leinster) 
Nora Stapleton (Old Belvedere/Leinster)
Hannah Tyrrell (Old Belvedere/Sevens) *
Megan Williams (St. Mary's/Exile) *
Jade Wong (Richmond/Exile) *
 
* Denotes uncapped player at this level
IRELAND WOMEN'S Management Team –
 
Anthony Eddy – Director of Sevens and Women's Rugby
Tom Tierney – Head Coach
Declan O'Brien – Assistant Coach
Derek Dowling – Scrum Coach
Jean Casey – Team Manager
Marian Earls – Strength and Conditioning Co-ordinator
Lukasz Kirszenstein – Strength and Conditioning Coach
Brian Fitzgerald – Video Analyst
Lucy Soden – Team Doctor
Ulrik McCarthy – Physio
Dom Hoban – Physio
Nora Ni Fhlannagain – Nutritionist
Carmel O'Dwyer – Squad Co-ordinator
Maria Boland – Media Officer
IRELAND WOMEN'S 2015 RBS 6 Nations Fixtures:
 
Friday, February 6: Italy v Ireland, Stadio Mario Lodigiani, Florence, 7pm local time/6pm irish time
Friday, February 13: Ireland v France, Ashbourne RFC, 7.30pm (live on IrishRugby.ie)
Friday, February 27: Ireland v England, Ashbourne RFC, 7.30pm (live on IrishRugby.ie)
Sunday, March 15: Wales v Ireland, St. Helen's, Swansea, 12pm
Sunday, March 22: Scotland v Ireland, Broadwood Stadium, Cumbernauld, 1pm